Old news/September 2010: Difference between revisions
Jump to navigation
Jump to search
m

Line 221:
Line 221:

{{clear}}

{{clear}}






== References ==

<References />

 

__NOTOC__

 

[[Category:Old news]]
---
Revision as of 08:44, 19 December 2011
Thursday | September 30, 2010
Do You Write With Forked Word Processor?
If so, maybe Portland Fiction Project wants you! If you're particularly skilled with turning actual reality into depraved fantasy, you might have a bright future as mouthpiece for government bureaucracy, multinational corporatism or the TV news!

Wednesday | September 29, 2010
An Assertive "Wynde" Becomes "Driving Force Behind Golden Rule"
Transforms age-old wisdom into a "social experiment in creativity and commerce (and craziness)."

Go to story: Portland Spaces: Golden Rule
Tuesday | September 28, 2010
PortlandWiki's 1st Birthday Is Today!
To celebrate, we're demoting WikiMaster to WikiBot as soon as we can figure out how.

Go to non-story: Littlest GNU Bot (in) Transition
Monday | September 27, 2010
The End Is Nigh!
H.P. Lovecraft Film Festival: Comes to Portland's Hollywood Theatre, October 1-2-3, 2010.

Go to story: H.P. Lovecraft Film Festival
Sunday | September 26, 2010
Canoeist Alexander Martin: "Extreme Paddler" Ain't No Day Tripper
Begins paddling in Portland, Oregon. 4,300 miles later, ends journey in Portland, Maine.

Go to stories:

Saturday | September 25, 2010
Portland, Oregon: Cheap-Ass Cars & Spendy Bikes
Phoenix, Arizona: Spendy cars & cheap-ass bikes. Can we trade?
Portland boasts lower car resale prices than most other U.S. towns. Unfortunately, the burden of over-priced used bicycles is greater only in Seattle. Will City Repair's "community lantern walks" become a favorite activity for Portlandians squeezed out of city's costly used bike culture? Or how 'bout serving up a "$20 plan" as a tasty side dish to the city's "20 minute plan"?

Go to stories:

Friday | September 24, 2010
Kindle-Reading Predator Drone Pilot Wipes Out Entire Village Of Missing School Children
A distracted Lt. Lahcen Qouchbane accidentally squeezed his joystick moments after Sports Illustrated's "Swimsuit Issue" downloaded to his Kindle 3G. The errant squeeze unleashed the wrath of one thousand missile-drones, raining hellfire down upon the tiny village of Kyron, located in the remote Horman province. Qouchbane's joystick snafu was compounded by a CIA contractor who "illegally and hastily reverse-engineered" drone software code resulting in "inaccurate" targeting "by up to 13 metres."

Go to stories:

Thursday | September 23, 2010
Don't Know Jack? Can't Help You.
But Dave Knows Portland Transit!

Go to story: Portland Transit Blogging 2010
Wednesday | September 22, 2010
Portland's Homeless Populations: "Keep 'em helpless, hopeless and above all, atomized."
Why not add "barefoot and pregnant" to that list? "But if people have no choice, it's my preference that they find smaller, dispersed places to camp." - Portland City Commissioner Nick Fish

Tuesday | September 21, 2010
Porno Perverts Pummel Oregon's DOJ
Uncle Creepy can continue engaging in "practices of 'luring' and 'grooming' that expose minors to sexually explicit materials in the hopes of lowering their inhibitions against engaging in sexual conduct."

Monday | September 20, 2010
Day 172: Gabriel Park
The one hundred and seventy-second thing you can do, according to "365 Things to do in Portland."

Go to story: Day 172: Gabriel Park

Go to website: Gabriel Park, SW 45th Avenue & SW Vermont Street, Portland
Sunday | September 19, 2010
U of O Shows PSU "The 69"
Despite Ducks' willingness to "play ball," Vikings fumble.

Go to story: Ducks Rout Portland State 69-0
Saturday | September 18, 2010
Portland Roadway Slaughter Lower Than Other U.S. Towns
Motorized mayhem reigns in Atlanta, Detroit and Los Angeles. Autocide rates relatively lower in Stockholm, Berlin and Tokyo. Study fails to factor in carnage caused by resource wars.

Go to story: Portland Rated Safest Traffic City in America! Woot!

Friday | September 17, 2010
Today Is PARK(ing) Day!
According to PARK(ing) Day (dot)ORG, "PARK(ing) Day is an annual, worldwide event that inspires city dwellers everywhere to transform metered parking spots into temporary parks for the public good." And after you and your friends finish reading Autophobia: Love and Hate in the Automotive Age, maybe EVERY(day) will become PARK(ing) Day.

Go to stories:

Thursday | September 16, 2010
Yet Another Facelift For White Stag Sign?
Sign's current owner "gives" sign to City of Portland in exchange for a $2000 monthly maintenance contract. Property developer will foot the $200,000 new makeover tab for the high-maintenance Stag.

Go to story: Portland now owner of Made in Oregon sign
Wednesday | September 15, 2010
Less Than 0.01 Percent Of Food Stamp Funds Spent At Farmers' Markets
"It is the best place to spend (your monthly food stamp allotment)," said Anna Curtin, education and outreach specialist for the Portland Farmers Market in Oregon. "It benefits (food stamp) users, it benefits the farmer, it benefits the larger community. And it is the freshest, healthiest food you can buy."

Go to story: Farmers' markets draw few food stamp users
Tuesday | September 14, 2010
"Disturbance" Blamed As Source Of Woes
Unwilling to find source of peace deep within, Old Town resident blames "external disturbances" instead.

Go to story: DISTURBANCE
Monday | September 13, 2010
Help Wanted: Professional Malingerer
From Craig's List Help Wanted Ad: "Part-time temporary positions available for healthy women between 45-55 years of age who are needed to portray 'fake' patients of Hispanic descent as part of a study assessing healthcare delivery in rural Oregon."

Go to story: Simulated Patient Position available (Portland, OR )
Sunday | September 12, 2010
Enjoy Life--Eat Out More Often *
Portland Eats Out is "a community of like-minded eaters, coming together." "Staff Eaters" hit the streets to build "a tribe of restaurants, cafes, coffee shops, bars and food carts to participate in the program." "Members" are encouraged "to 'Eat Out' frequently on slower nights."

Saturday | September 11, 2010
Today is "national fly the flag" or "burn someone's holy book" day!
Tea Party militia groups urge Americans to "fly the flag," while dominionist religious cults threaten to burn some other religion's holy book. In Portland, independent journalists and talk show hosts will burn copies of the 9/11 Commission Report.
Friday | September 10, 2010
Bonghits With Blumenauer In Bridgetown
National Organization for the Reform of Marijuana Laws (NORML) rolls into Portland for 39th annual convention.

Go to story: NORML National Conference In Portland, OR
Thursday | September 9, 2010
Texas Hold 'Em Fever Overwhelms House Of Pain
Uncontrollable "rowdy, lawless" behavior at illegal NE Portland gambling den leaves city toothless.

Go to story: Poker gamble fails to pay off
Wednesday | September 8, 2010
Charity Begins At Home; Ends In Portland
After a 3500 mile ride from Maryland to Oregon, Bike Free's "Buttercup" gets ripped off in Portland. How will Paul and Adam complete their journey and carry out the Bike Free mission? Fear not! "With God's help," they'll "overcome this selfish deed, get bikes to the kids, and continue spreading the word about the goodness of bikes."

Tuesday | September 7, 2010
Big Timbers Run Little Beavers Outta P-Town
Portland Beavers, the Rose City's minor league baseball team and Portland institution since 1903, is pushed out of PGE Park (formerly Multnomah Stadium) by Portland's new major league soccer team, Portland Timbers.
Go to story: Triple-A Beavers say goodbye to Portland
Monday | September 6, 2010
Oxbow Regional Park: A Wonderful Place To Raise Your Homeless Family
Did you lose your job quite a while back? Your unemployment insurance finally sputtered out? A bailed-out bank foreclosed your family out of your home, and you're sick of squabbling with other homeless folks on Portland's mean streets? Take heart! Oxbow Regional Park's campground is open year 'round, it's not far from Portland, and Stag Beetle Power! says it's a wonderful place to bring the kids!

Go to story: Oxbow Regional Park
Sunday | September 5, 2010
Sun Devils Scuttle Portland's Vikings
If you can't stand the heat, get out of the Devils' kitchen.
Go to story: Arizona State Handles Vikings, 54-9
Saturday | September 4, 2010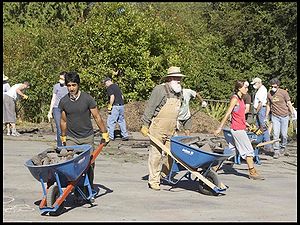 Tearin' Up The Parking Lot
City Commissioner Nick Fish helps "Depave" a SW Portland church's parking lot, transforming it from asphalt-covered dead zone to community garden.

Go to story: Depave photos
Friday | September 3, 2010
Locker Room Pragmatism
City assures public it's providing Portland's homeless folks with access to storage lockers for "practical--not just humanitarian--reasons." Will "creeping compassionism" ultimately undermine self-righteous ruthlessness and free-market fanaticism? Experts fret over the "inevitable unwinding" of multiple decades of carefully contrived pro-corporate cultural conditioning.
Go to story: Homeless get storage lockers in Portland
Thursday | September 2, 2010
Multnomah County "Taps Out" Disposable Plastic Water Bottles
Commissioner asks employees to "pledge" oaths of loyalty.

Go to story: Multnomah County "Takes Back the Tap!"
Wednesday | September 1, 2010
Portland Dealt A Bad Hand
Aces come down hard on the Beavers.

Go to story: Reno Aces defeat Portland Beavers
You got to push it-this essetnail info that is!