FREE Thanksgiving dinner
From PortlandWiki
FREE Thanksgiving dinner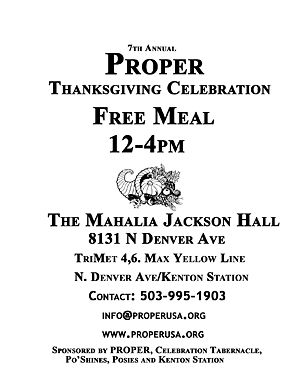 Date: Thursday, November 24
Time: 12:00pm - 4:00pm
Location: Celebration Tabernacle Church 8131 N Denver St. (at Kilpatrick)
or return to the events page.

Purpose

Come join us for a Free Thanksgiving Day Feast!!
In collaboration with Po'Shines Café de la Soul and Celebration Tabernacle Church, PROPER is sponsoring its 11th Annual FREE Thanksgiving Feast on Thanksgiving Day, 12-4pm. A full Thanksgiving dinner with vegetarian options and live (and lively) entertainment, kicking off with award-winning singer and storyteller Anne-Louise Sterry and friends.
Doing Thanksgiving community-style is a beautiful thing, come join us on this special day.
Volunteers and donations welcome.
The available volunteer positions as of November 16, 2011:
Donations — perishable and non-perishable Thanksgiving-related items, mostly turkeys and hams, or paper goods, coupons, vouchers
Flyering the neighborhood — wear walking shoes, go with a group or do it on your own time!
Administration — website development, marketing
Signs and Banners, Decorate — hang banners in designated areas (appropriate materials and locations given) Help create other event signage if necessary. Some physical exertion required
Cook or bake — experience and food handler's license required, prepare vegan menu options, vegan ingredients and professional kitchen provided, meals may be prepared in advance where presence is not required on event day
Be a part of the Entertainment — call Deborah at 503-286-1488 (music, poetry, storytelling)
Wall of Gratitude — (long or short) write your personal story and we will print for the Wall of Thanksgiving to encourage others. We're hoping the end product is a wall showing a broad perspective of what it means to be thankful. Send to info@properusa.net.
Shifts are evenings and weekdays typically 2-4 hours depending on the position. Volunteers must be 18 years of age or older to participate. Family positions are available.
Robin at 503.890-5393 - info@properusa.net
See you at the table: 12-4PM Thursday, November 24 – Thanksgiving Day
CELEBRATION TABERNACLE
8131 N Denver Ave, (Kenton District) North Portland OR 97217

more information